Amazon is one of the biggest companies in the world. They operate in almost all major countries including India. Apart from online shopping, you can pay your bills also through Amazon using the Amazon Pay app. In other words,  you can make payments for almost everything including your utility bills, recharge your prepaid mobile, transfer money, make payments on different online shopping websites, and even make payments offline at retail outlets also. You can pay your KSEB electricity bills also using the Amazon Pay App. This is a guide to paying KSEB electricity bills using the Amazon Pay app.
Installing Amazon App on your Mobile Device
The Amazon app is available on Google Play Store. It is free, you can download and install it using the below link.

KSEB Amazon Pay Electricity Bill Payment
To pay your bill, open the Amazon app on your mobile device.
Then tap on Amazon Pay.
Next tap on "Electricity" to go to electricity bill payment.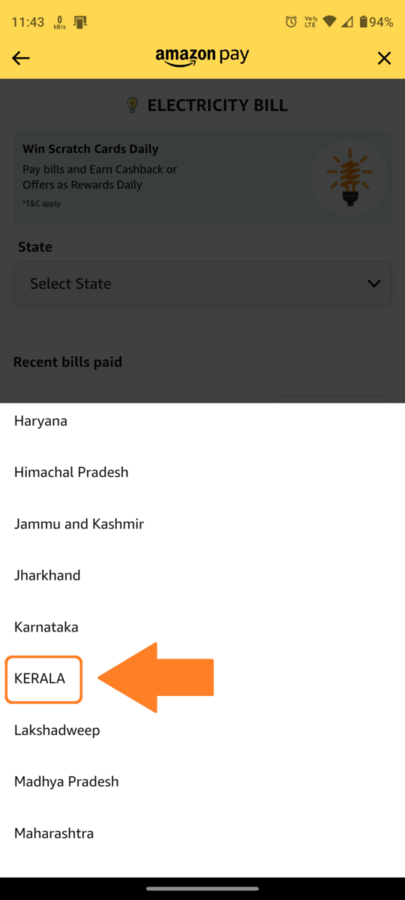 You can see a list of states on the next window, select Kerala from the list for KSEB bill payment.
Next, select Kerala State Electricity Board (KSEBL).
Type your KSEB 13-digit consumer number and tap Fetch Bill to retrieve the details of your bill.
Forgot your KSEB consumer number? no problem, you can find your 13-digit KSEB consumer number using your mobile number.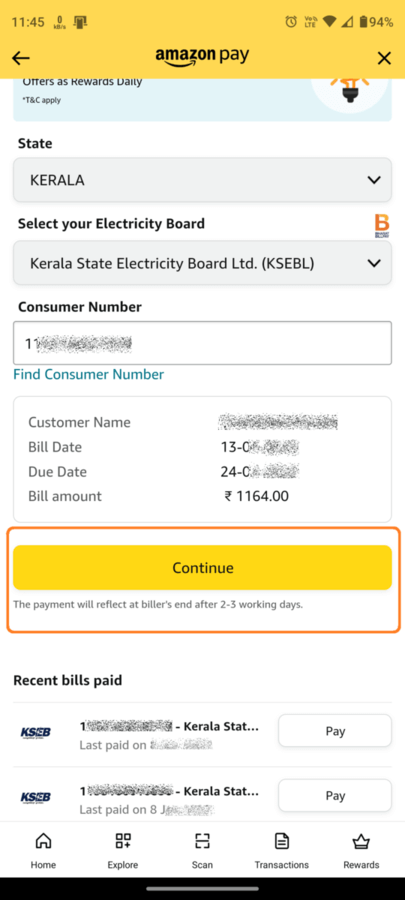 Now you can see your latest bill details including the payable amount and last date. Tap on the Continue button to proceed further to make the payment.
Next is the selection of the payment method to pay your bill. You can use almost all payment methods to make the payment. Some of them are,
Amazon pay balance (If you have money in your amazon pay wallet)
Amazon pay UPI (If your account is linked)
Amazon pay later (If you have enabled the feature)
Internet banking
Credit card
Debit card
Other UPI (Such as Google pay, PhonePe)
Select the payment method and tap Place Order and Pay to continue.
A success message like the above screenshot will display on your screen after making the payment.
Amazon Pay Cashback for Kerala Electricity Bill Payment
Amazon Pay offers cashback for bill payments all the time. You can get these offers when paying your KSEB bill also. The offers change from time to time. You will get at least a scratch card with some offer for every bill payment.
Advantages of Paying Bills using Amazon Pay
It is the best app for bill payments with the lowest failure rate
It is quick and easy
You will get cashback/any other offer on almost all payments
You can make multiple payments on a single platform.
Payment is secure
It is the most used shopping app in the entire world.
Other Ways to Pay Kerala Electricity Bills
There are many ways to pay your KSEB electricity bills online. Here, in this blog, we cover almost all of them. You can read detailed guides for different methods using the below links.