The image shown below is the screenshot of the KSEB Online Portal – wss.kseb.in new user registration page.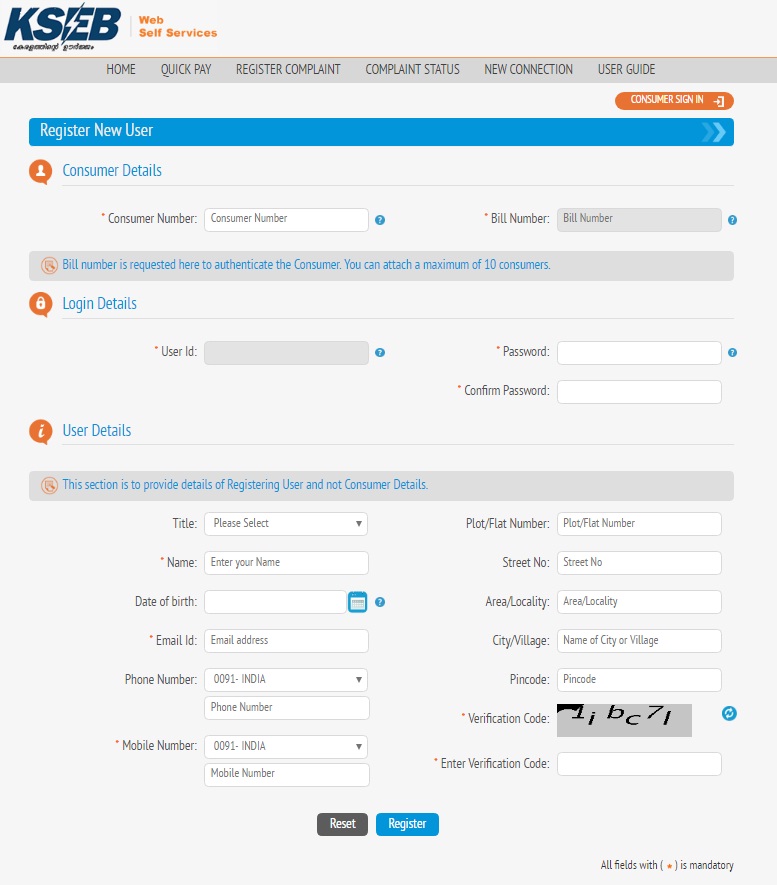 Follow below link to go to KSEB Online Portal Registration page
Go to KSEB web self-service registration

Mandatory details for KSEB Online Portal Registration
1) Your Consumer Number
2)  Latest Bill Number
If you have the hard copy of your latest KSEB electricity bill in hand, you can see the bill number on it.
If you don't, follow the below link to view your latest KSEB Bill.
3) User ID
It can contain alphabets and numbers, should not contain special characters like *,%,&,@, etc. The length should be at least 6 characters.
4) Password
The length should be between 8 and 12.  It should contain at least one character, one number, and one special character.
5) Your Name
6) Your E-Mail ID
7) Your Mobile Number
8) Verification Code
Verification code is used for checking whether you are a real person or not. Type the characters of the image on the left side in the text box on the right side.
There are some more items on the registration page, these are not necessary for registration. You can fill these up if you want.
Click  Register
A confirmation message will be displayed. For verifying your email address, KSEB will send an activation email to your registered email address. Check your e-mail inbox for an activation e-mail sent by KSEB. It will be from kseffc.dnr  and its subject will be Confirm your email address
Open the activation e-mail. There will be an activation link for activating your account.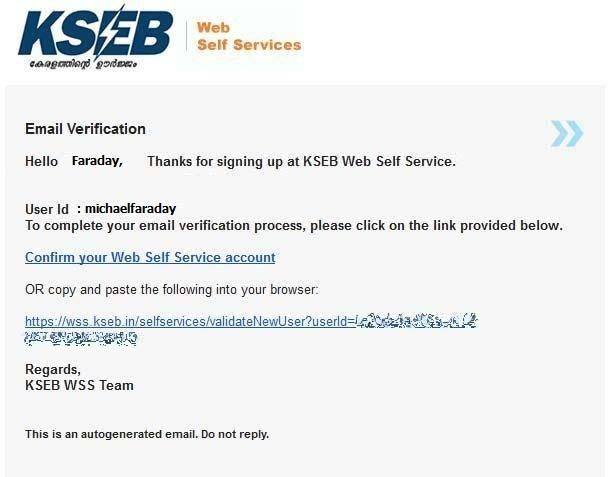 Click on Confirm your Web Self Service account or copy and paste the link in your browser address bar to activate your account.

Your account is now activated. Click on Back to Login to go to the KSEB Online Portal login page. Type your user name and password there and click  Login to log in to your KSEB Online Portal Account.
For detailed instructions to pay the KSEB electricity bill after registration, follow the below link.
Go to KSEB WSS Portal login page