KSEB has implemented a self-meter reading system to take meter readings without visiting your place. It is a useful thing if you are in a containment zone. By using this, you can take the KSEB meter reading and submit it yourself. For making use of this, first of all, you should know how to take the readings from your KSEB electricity meter properly.
KSEB Self Meter Reading – How to Find Your Present Reading on KSEB Digital Electricity Meter
On every KSEB digital meter, there will be a button to display different types of readings. For different models of meters, the color and position of the button are different. Take a look at the image below.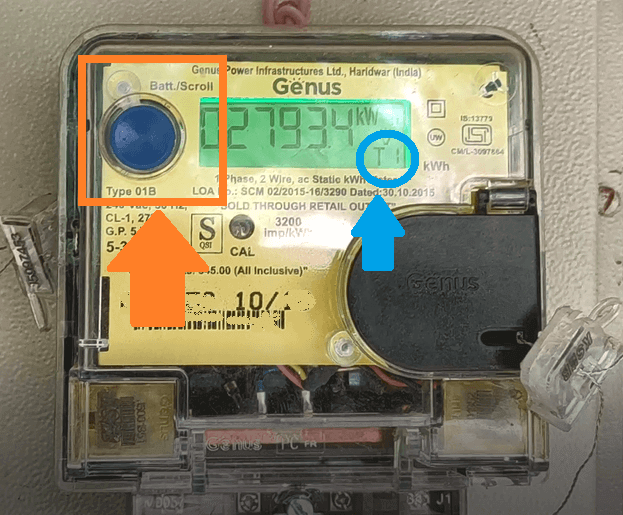 You can see the button in this image. When pressing the button, the value and the code of the value (marked in a blue circle) displayed on the meter will change.  Each code denotes different types of readings. You can see a detailed description of the different codes here.
Press the button repeatedly until you see a value with code T3 (Refer to the image below)
Press the button carefully once again, The next value is your present meter reading. (Refer to the image below)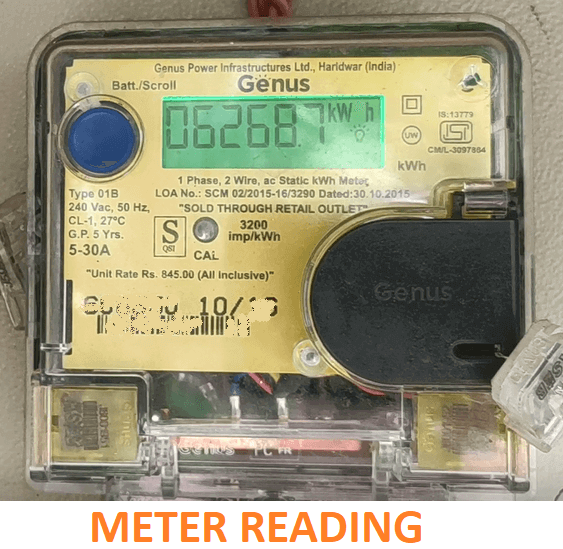 As per the image above, the meter reading is 6268.7. To get your bi-monthly consumption, find the final reading of your previous KSEB bill and subtract it from the present reading. If you lost your previous printed bill, you can find your previous meter reading online using KSEB WSS Portal.
If you don't have an account in the KSEB web self-service portal, you can find the meter reading using the KSEB bill view page. You don't have to register an account for this.
How to Submit the Reading to KSEB
If your mobile number is registered with KSEB, you will receive an SMS on your registered mobile number with a link to submit your current meter reading. If your mobile number is not registered and linked with your consumer number, you can do it easily by yourself.
You can submit your meter reading by clicking on the link you have received via SMS. Don't worry if you did not receive the SMS even if your mobile number is registered. Someone from your KSEB section office will call you to collect the reading.
Useful Links