Paytm is one of the leading e-commerce websites in India. They provide online shopping services, mobile recharge/bill payment service, electricity bill payment service, etc. and works as an online wallet also. Almost all service providers are listed in Paytm for online bill payment. KSEB wasn't there till now, but now they are also there and anyone with a valid mobile number and e-mail address can use Paytm for KSEB bill payment online and avail great discounts and cashback.
KSEB Bill Payment Online using PayTm
For making KSEB bill payment online using Paytm, you should be a registered user of Paytm. For this, you only need a valid mobile number and e-mail id. You don't need to register first for making the KSEB bill payment online. You can do it in the bill payment process. Follow the below link to visit the Paytm electricity bill payment page.
Go to Paytm electricity bill payment

It will redirect you to PayTM,  Select Electricity from the top menu to go to the Electricity bill payment page.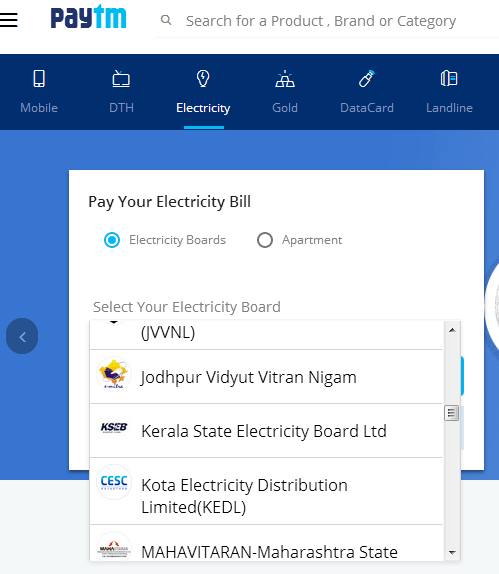 Select Kerala State Electricity Board Ltd from the list. Fill up your KSEB 13 digit consumer number in the space below and click  Proceed.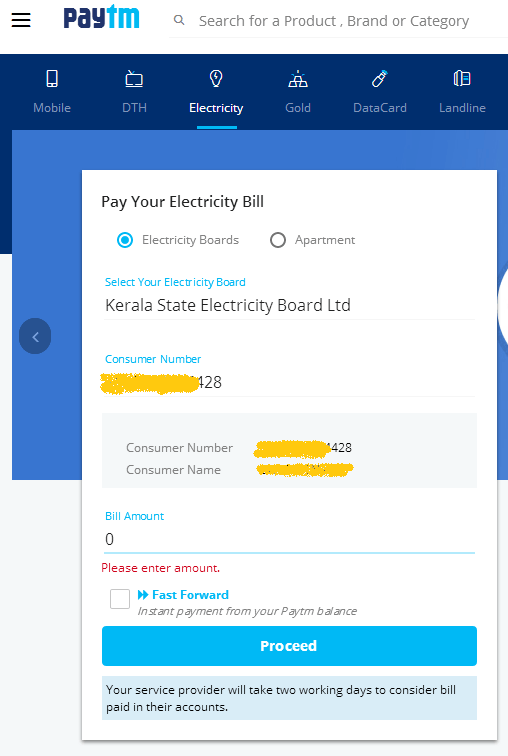 You can now see the details of your KSEB bill. If the bill amount if not shown, type it in the bill amount text box and click Proceed.
Paytm Promo Code
On the next screen, there is a link with the caption  Have a promo code ?. If you have a KSEB bill payment offer promo code of Paytm for cashback or discount, you can enter it by clicking on this link.
Currently active Paytm cashback promo code:
Use Promo Code FIFTY to get Rs.50 cashback on KSEB Bill Payment
Click Proceed to pay Rs.****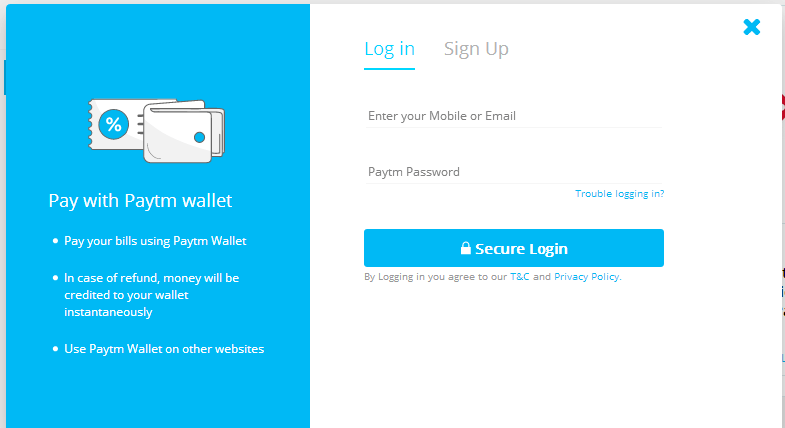 Paytm Account Creation
If you are not a registered user of PayTm, you can create a new account in PayTm from here. For this, click Sign Up, fill up your mobile number, e-mail, and a password.
If you already have a Paytm account, click Log in, fill up your mobile, e-mail, Paytm password and click Secure Login.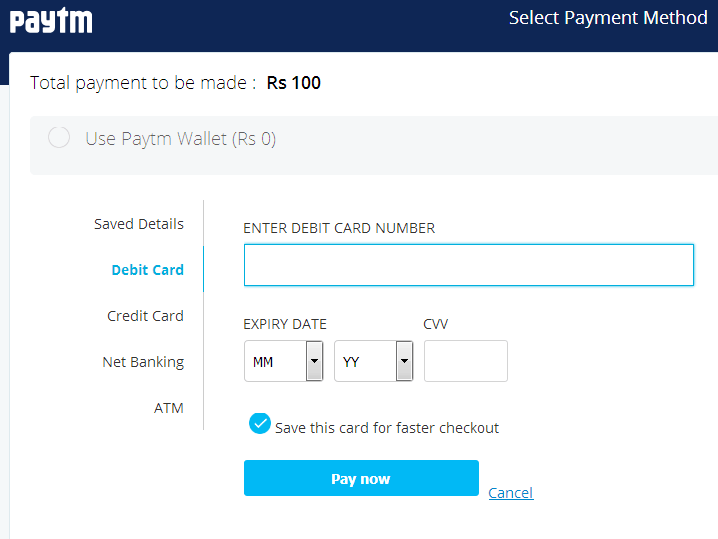 On the next screen, you can select your desired payment mode for the KSEB bill payment. You can use debit/credit cards, internet banking, etc for the bill payment. If you have any balance in your Paytm wallet, you can use it also to make KSEB bill payment online.
After selecting the payment mode, click Pay Now.
You will be redirected to the secure payment page of the payment mode you have selected. Fill up all the required details there and complete the transaction carefully. If you have entered any cashback coupon in the previous screen, it will be reflected in your Paytm Wallet after the successful completion of the transaction.
Frequently Asked Questions
How to check KSEB bill payment status?
You can check the status of your KSEB bill whether it is paid or not easily using the KSEB website itself. Click here for detailed instructions.
Where can I find my consumer number in KSEB bill?
You can see your consumer number printed below the bar code in the printed bill. If you don't have a printed bill, you can find your consumer number using your mobile number using the KSEB web self-service portal.