KSEB has now introduced a new way to pay your electricity bills online through official Quick Pay portal. It is so easy to make KSEB online payment through KSEB Quick Pay. But you should have some information in hand before making KSEB online payment using QuickPay. Using KSEB Quick Pay, you can pay your KSEB electricity bill without registration.
Click Here to Read in Malayalam
Required information for making KSEB online payment through KSEB QuickPay
1) Your Electrical Section ( Click Here for a list of available electrical sections in KSEB Quick Pay )
2) Your 13 digit consumer number
3) KSEB LT Bill Number



Before going to bill payment section for making KSEB online payment, you have to know the number of your outstanding bill. No problem if you don't know the bill number, it can be obtained by entering your 13 digit consumer number and section in the KSEB bill view page. After viewing the bill, you can note the bill number or even save the page in PDF format if you want to refer it in future. 
How to get KSEB bill number ?
Follow below link to read the instructions to view your KSEB LT Bill.
KSEB Online Payment using KSEB Quick Pay
If you have your electrical section name, consumer number and current outstanding bill number, you can pay your electrical bill through official KSEB QuickPay portal.
Follow below link to go to KSEB Quick Pay – KSEB Online Bill Payment portal.
It will direct you to " KSEB Quick Pay – Web Self Service "  page of Kerala State Electricity Board.
Fill up your Electrical Section, 13 digit consumer number and bill number, then click "Submit to See the Bill"
Fill up your E-mail id and mobile number then click "Proceed to Payment"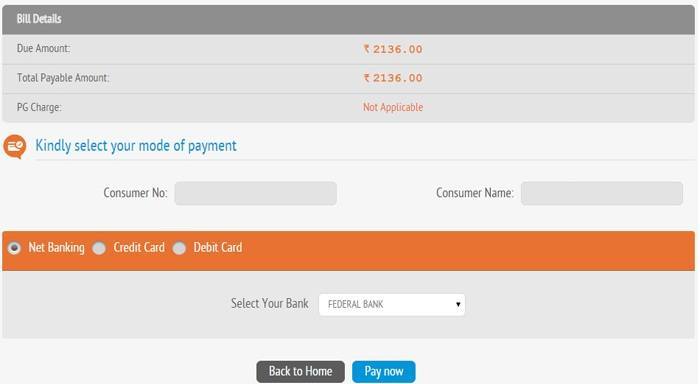 You can make payment through Internet banking, Debit or Credit cards. 
Select the payment mode you wish to use then click "Pay Now" and complete the transaction.
You will get payment confirmation as SMS in your mobile number and as an E-Mail in you email id if KSEB Online Payment transaction is successful.
How to check KSEB Bill Payment status?
Follow below link to read instructions to check KSEB bill payment status online
You can pay KSEB electricity bills online using WEB self service portal also. For this, you should register in KSEB web self service portal.
For detailed instructions to pay KSEB electricity bill after registration, follow below link.

For support and assistance –  Mail to: cccepaysupport@ksebnet.com OR Call: 0471-2555544